The beach towel. It's with you every time you go to surf and sand, yet it's probably the only thing in your bag and on your body that was not chosen after considering webpages of options and getting starry eyed with desire after seeing it.
Jaclyn and James Munzer want to change that by adding happy personality to the much-neglected terrycloth towel with their new line, Tide & Pool. They came up with the idea while on their honeymoon in New Zealand when noticing that it was the only item in their suitcases that was less than awesome.
At the time, Jaclyn was working as a television producer for reality and documentary TV shows. James continues to work in advertising and marketing for a big action sports brand. As it turns out, Jaclyn's smarts in production are what it takes to start a company. See, when you work in TV production, you're flying a plane that's always crashing and if you are good at your job then it lands safely and no one's the wiser except those in the cockpit.
"Even in our own business now, the minute something goes awry, rather than spending time lamenting that, you move on to, 'what are our solutions?' You don't spend too much time panicking. As a small business owner, I didn't realize it was a talent until I got in the middle of it," Jaclyn says.
I geeked out with Jaclyn on the unseen details of towel design (there's more to it than you think) and traveling through Central America on $15 a day.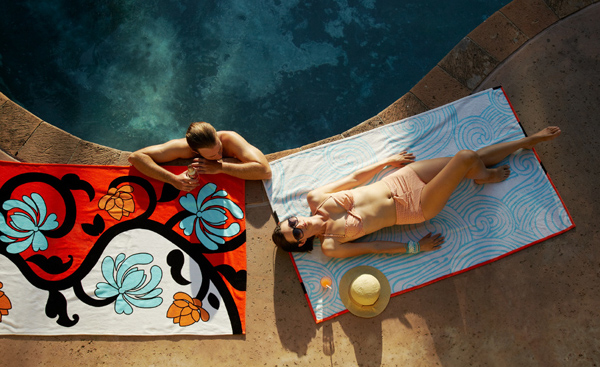 What was thesis when sitting down to concept the Tide & Pool products?
Our goal was to make this feel like a personal accessory. An accessory of someone's personal style—just like glasses, a hat, what a bathing suit would be. These are not product extensions of a clothing brand. This is a brand based on beach and pool lifestyle. We wanted to get anybody that embraced that idea, a towel that felt like them, a towel that they could connect with.
Where did the inspiration for the prints come from?
I must have a set of 50 inspirations! The challenge is creating a collection that appeals to a wide audience but still hangs together like a cohesive brand statement. From music, photography, art, architecture, things we've accumulated, Bossa Nova record covers. Slim Aarons the photographer really documented that amazing jet set 60s lifestyle across the Caribbean, Palm Springs, all those places. Vintage textiles that we found at the flea market. Woodblock prints are more international, ancient textile design concepts that were brought into play.
Really, I think the thing that hangs them all together is this very kind of poppy, bright graphic design aesthetic and a desire with people to have fun with it. Move away from things that people come to expect.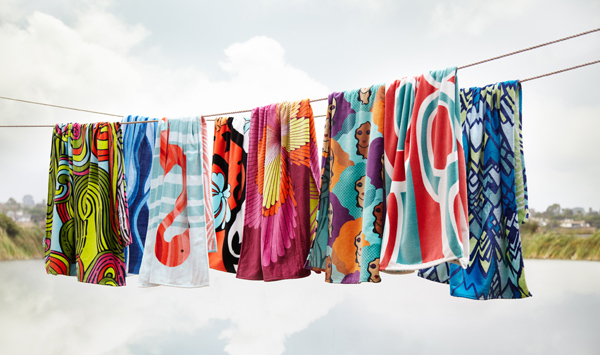 How are the Tide & Pool towels made?
They are printed. We wanted to do the printing because it gave us more freedom to do a different print on each side… The average beach towel is 200-300 gram weight. We wanted something that was more 500-600 gram weight. The front side changes and the back side of the towel is always the same tidal print, based on Japanese woodblock printing, in different colors.
That is [tidal print is our] ultimate celebration of ocean and pool. We have this saying, taking a dip can take you to your happy place. It can wash a way a terrible day, it can wake you up in the morning, it can refresh you. For us its kind of this heal-all idea, and obviously water is the life source of the world so its really central to all of our designs.
Where are they made?
At a linens company in Brazil that has been around for 120 years. It's a country that's still involved with the coast and the beach. This is a huge company, so its manufacturing [business] for the Brazilian community. It's like a multi-generational situation where many generations worked for that city. I really enjoyed working with people who know what they do and so well.
What's it like working together as a husband and wife couple?
He and I have very different talents. We really benefit from each other's input and it gives us a chance to really hone in on our collective aesthetic. He's much more the surfer, coastal, grew up doing that his whole life. I grew up more inland California, pool, swim team—that whole world. So we really are tide and pool combined. Now we live by the ocean so we get both.
The concept came from your New Zealand trip. Why did you choose New Zealand for your honeymoon?
Any sunny day is a chance for us to be outside. We love camping, surfing, hiking—any way you could be outside, that's our M.O. so we wanted to take an adventure for our honeymoon, go someplace and see new things. That whole camper van culture is a big thing in New Zealand and Australia. I've never seen campgrounds like this. Beautifully equipped for this kind of trip. That was really what brought us there.
We basically we had a camper van and we traveled all around the coast up and down. It's very long, but narrow. It's just gorgeous. One side of the island reminds me of tropical Kauai dark sand, lush gorgeous. The other side is of the island was very central California, lots of epic cliffs going into the ocean. It's an amazing paradise in terms of coast. Everywhere you go you were in ocean view. We were there for about a month, basically driving around, camping surfing hiking and exploring.
Do you travel a lot together?
We took a trip for 2 ½ months through all of Central America back in the day. We started in Guatemala, all the way down to Panama and back up and all the countries in between. The only country we didn't hit was Belize. Back then, we were taking buses, it was a little hitchhike-y. Making our very little money going as far as we could. We were trying to live on $15-$20/a day the two of us combined. You have to just travel as local people do. You can't do any of the tourist stuff, which is fine, you don't need to. That was how we figured out how to do it all. We ate a lot of peanut butter, casados, gallopinto! We lived on a lot plantains.
Were you scared to travel around like that for so long being young and by yourselves?
Our dear friend from childhood was in the Peace Corps in Nicaragua at that point. We got so much from her in terms in terms of traveling and understanding what we should be doing, what we shouldn't be doing. It was an awesome trip, and it set the tone for us as a couple. For both of us it was the first big adventure, leave it all behind travel extravaganza. We embarked on it with, 'Well this is going to be the beginning of something great or the end.' It's our stride as a duo as far as how we want to spend our free time. When you can get out of your day-to-day, it kind of clarifies your goals for you and your priorities.
All images courtesy of Tide & Pool. Find out where to buy at the Tide & Pool website!